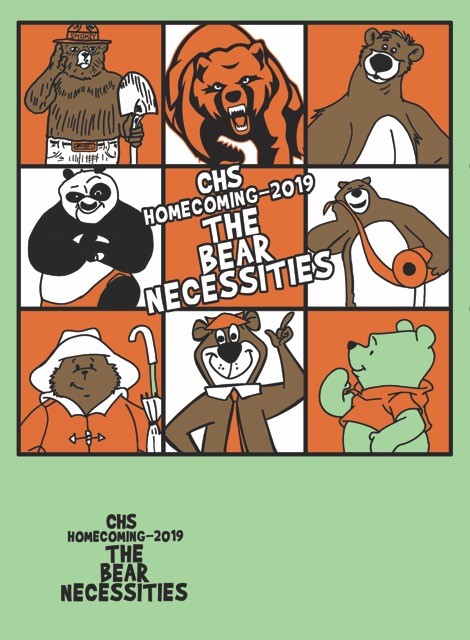 CHS Homecoming 2019
The Homecoming Dance will be held on Saturday, October 19th, from 8:00 p.m. until 11:00 p.m. at Catholic High. The dance is a lock-in beginning at 8:30 p.m. Drivers may leave starting at 10:30 p.m. and carpool will begin at 10:45 p.m.
Tickets, T-Shirts, Pictures and Corsages
Tickets
Tickets to the dance cost $20 per couple and must be purchased in advance.
T-shirts
T-shirts are optional. T-shirts cost $15 (short sleeve only) each and must be purchased online. Orders will be filled on a first come, first served basis. No refunds will be given on t-shirt sales. The design is above and will be featured on the back of the shirt.
Dress Code
The dress code for young men is dress slacks, dress shirt, dress shoes and socks, and a tie. Coats are optional. There will be a coat check in the library. No hats are permitted. All grooming rules as stated in the student handbook must be followed.
The dress for young women is a semi-formal dress that is either long or short. Hemlines and slits must be no higher than four inches above the knee, AND the dress must be longer than her fingertips with her hands at her side. Dresses must have modest necklines based on girl's body-type. Visible midriff, cut-outs, or backs lower than the traditional bra line are not allowed. Dresses may not be skin-tight, spandex, or knit. Shoes must be worn at all times. Girls should bring a pair of sandals or flip-flops to wear if they plan on taking off their dress shoes. No pierced body parts are to be visible except the ear lobes. No tattoos are to be visible. Young ladies should be dressed appropriately for a Catholic school function.
For confirmation on whether a dress/outfit is appropriate, please e-mail a picture of yourself (front, side, and back) in the dress/outfit to Ms. Nancy Herin, Activities Director at nherin@catholichigh.org. A link that SJA sent out to their students as a guide is attached here for your information: http://bit.ly/2bQinBp. Forward it to your date.
The administration, faculty, or staff members of Catholic High will make all final judgments on the appropriateness of each student's attire. It is the CHS student's responsibility to inform his date of the dress regulations. The dress code is strictly enforced. If you or your date does not adhere to these guidelines, then either you will not be admitted or you will be asked to leave.
Pictures
Pictures will be taken by Brad Messina Photography in the CHS Wrestling Room from 7:00 p.m. until there is no line, or until 9:30 p.m. (whichever comes first) on the night of the dance. Group poses are welcome, but please limit them to no more than two couples in a group. Pictures may be purchased using the order form above. Please bring your receipt to the dance.
Students may come take pictures early, leave to go to dinner and return for the dance as long as they are back by 8:30 p.m. There will be a prepaid line at the dance, so make your purchases in advance to save time. Picture packages may also be purchased at the dance.
Additional Information
No one may bring props, knapsacks, overnight bags, unusually large purses, or book bags to the dance.
The CHS Youth and Government Club will be selling corsages. Place your order above.
The CHS Student Council sponsors this dance. Questions about the dance may be forwarded to moderators Fiona Conroy at fconroy@catholichigh.org or Drew Losavio at dlosavio@catholichigh.org.